With the Due for Rescreen feature, you will be able to keep track of when your applicants are due for renewal.
The Due for Rescreen section is located under the Background Checks tab in the left-hand menu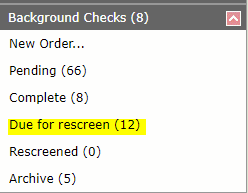 When your applicants start appearing in the Due for Rescreen, as long as you have the original consent form on file, you can reorder directly from this list. When you reorder from the Due for Rescreen, that applicant will move from Due for Resceen into the Rescreened list, which is directly below Due for Rescreen.


Reordering:

Click on the small gray box to the left side of the applicant's name, which will turn the applicant's row blue




To the left side of the screen, there will be an Actions menu that will appear with the option to order the background check

You are able to select multiple applicants at once!
Remove applicants no longer with your organization:
If you have some applicants that no are no longer with your organization and are in your Due for Rescreen, you can remove them through the following steps:
Click on the small gray box to the left side of the applicant's name, which will turn the row blue



Under the Actions menu, hover your mouse over the "Update Active Status"

Click on the "N" to mark the applicant Inactive.


You are able to mark multiple applicants as inactive